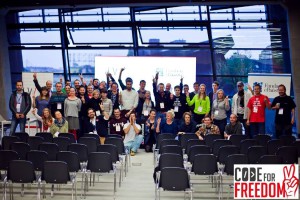 In the end of September, in Gdańsk, 18 projects' teams were working on the developing ideas under the umbrella of code for freedom initiative by ePF Foundation and Lech Wałęsa Institute. UG Zasto ne with the project of visualizing Bosnian election data also took part in the event.
Code for Freedom was an international Hackathon organised to promote the ideals of freedom, solidarity and democracy. Technology and activism go hand in hand, and together can ameliorate many aspects of our everyday struggles for a better world. Empowering human rights, responding to humanitarian disasters, increasing transparency and accountability of governments, supporting civic engagement of citizens and many more topics can be addressed at this hackathon.
For two days of the hackathon everybody was working the in newly opened premises of European Solidarity Center and on the second day, the prices were given to the following projects.
1. Not only elections – Civic participation toolset – Internet platform to rise awareness about local & national legislation and to connect leaders of social actions with people who might support them.
2. Stirna.info – who owns media? – a tool that allows Lithuanians to quickly and conveniently find out who owns online portals, newspapers, TV & radio stations and news agencies in Lithuania since 1996.
3. Basic Record – tool for enforcing citizens' right to free access to information in Russian archives.
More about the winners here: www.codeforfreedom.org/and-the-winners-are/
UG Zasto ne team was working on the project, which will soon will be launched and will allow everybody to see visualized results of elections in Bosnia and Herzegovina and maybe look at them from a different perspective.
You can learn more about the event by visiting its website http://www.codeforfreedom.org
and by watching the movie summary