The ePF Board decided to set up an International Advisory Board. Members of IAB will support ad hoc and strategic activities of the ePF in Poland and in the CEE region. They are internationally recognized experts in the field of civic tech and the rule of law.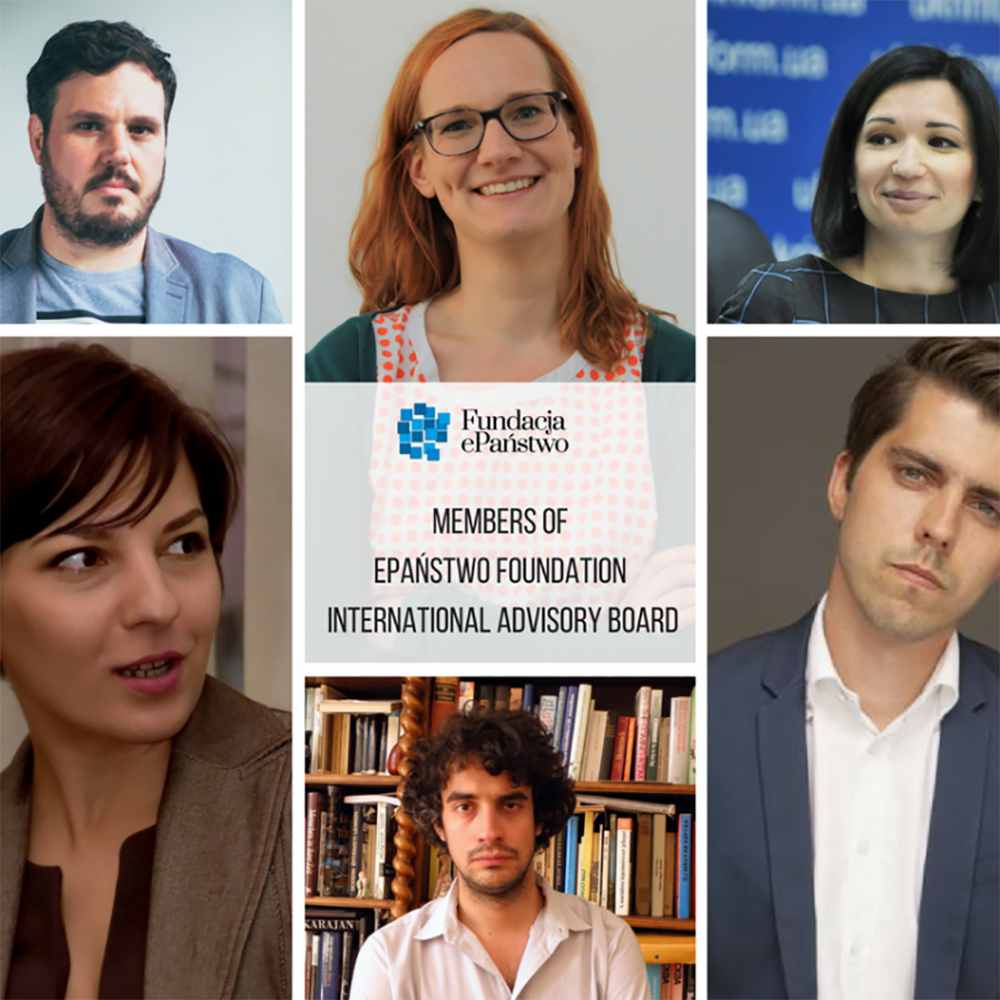 Members of International Advisory Board:
Darko Brkan – President of CA "Why not", one of the most prominent Bosnian NGOs that promotes activism, government accountability and use of technology, as well as president of the board of the regional network Action SEE. Darko holds degrees from the Faculty of Electrical Engineering and Faculty of Economics. His professional interests are digital media, elections and political processes, civic activism and international relations. He was a Draper-Hills Summer fellow at CDDRL Center at Stanford and a Reagan-Fascell fellow at the Forum for International Democratic Studies. He is a regular contributor to many local and international media and a speaker at a number of prominent events and conferences.
Elena Calistru – Chair and founder of Funky Citizens, a Romanian-based NGO. Funky Citizens builds research-based, data-driven advocacy tools. Funky Citizens' tools aim to be educational and actionable, encouraging citizens to engage in accountability and government responsibility initiatives in which they can see an impact. Elena has more than 7 years of experience in civil society projects, both at national and international level. Her expertise is mainly in the area of good governance, transparency, public finance and advocacy. She strongly believes that data and online tools can empower citizens to influence public sector reform.
Olh'a Ayvazovska – Head of the Board of the Civil Network OPORA NGO, international expert in electoral matters, parliamentary and development of draft laws. Ms. Aivazovska was a director of national nonpartisan observation missions in Ukraine with over 20,000 activists involved from 2010 to 2016, and participated in electoral observation in more than 10 countries of Europe. Olga actively participated in the Revolution of Dignity (2013-2014) in Ukraine, and volunteered in Kyiv hospital on the day protesters were shot. Olga represents Ukraine in the Trilateral Contact Group (Ukraine-Russia-OSCE) settling the conflict in Eastern Ukraine, is a Member of the National Unity Council under the President of Ukraine, and Board Member of the Ukrainian Think Tanks Liaison Office in Brussels. Was included in top 100 most influential and most successful women of Ukraine in 2014, 2015, 2016 (according to political editions the Focus magazine and the Novoe Vremia). Olga Aivazovska is alumnus of Draper Hills Summer Fellowship on Democracy and Development Program at Stanford University's Center on Democracy, Development, and the Rule of Law and Leadership Academy for Development (UKU).
Sandor Lederer – Co-founder and CEO of K-Monitor, a watchdog NGO for public funds in Hungary. Sandor holds an MA in International Studies from Corvinus University, Budapest. K-Monitor was founded with the aim of raising awareness about the issues of corruption and to bring a new level of transparency in the field of governance for the purpose of fostering democracy and the rule of law in Hungary. K-Monitor runs technology projects, conducts research and advocates for legal reform. Sandor is the local country correspondent for the EC's anti-corruption report, was a GMF fellow and a NewEurope100 challengers.
Karolis Granickas – is a senior program manager at Open Contracting Partnership. Prior to that, he worked with Transparency International Lithuania focusing on citizen engagement using ICT. Also, together with the Epsi platform, Open Knowledge International, Open Data Institute & others, he contributed to global open data advocacy efforts. Since 2014, he has been a National Researcher within the Open Government Partnership Independent Review Mechanism. Karolis has earned his Bachelor's degree in International Law from the University of Westminster (UK) and Master's degree in European Union Law from the University of Maastricht (the Netherlands).
Anna Alberts – is the project lead for Financial Transparency projects at Open Knowledge Germany. She leads OpenBudgets.eu, OffenerHaushalt, and subsidystories.eu. Through her work, she aims to expand accountability and transparency in government finances, currently she thinks a lot about how to make budgets less boring. She has a degree in International Development Studies and International Relations and worked as a policy officer at the strategy unit at the Ministry of Foreign Relations of the Netherlands. She lives and works in Berlin and enjoys cooking and cycling in her free time.
Source: epf.org.pl