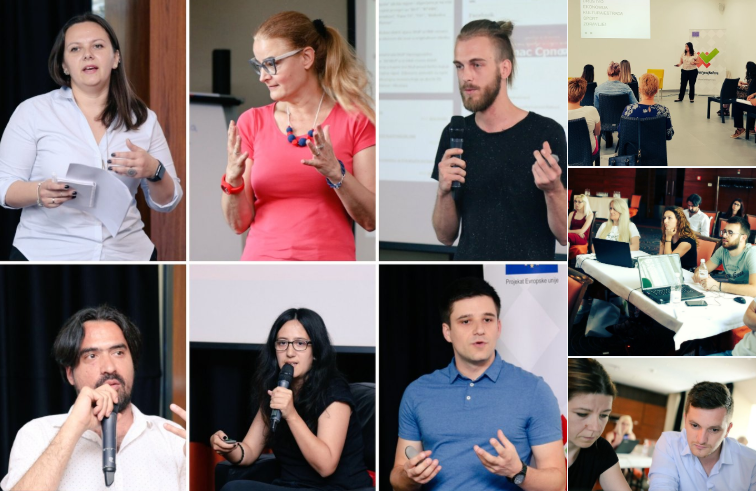 On June 2nd, educative workshop in organization of Mediacentar Sarajevo and BORAM agency has been held in Sarajevo, within the framework of project directed by the Office of the European Union in Sarajevo aiming to actualize the problem of disinformation.
Workshop titled "Digital tools for credible reporting and fact-checking" gathered journalists from all around B&H who were given the opportunity to actively participate in workshop through debates and sharing personal experiences, together with eminent professionals who were also present on this occasion. Workshop for journalists, students of journalism and bloggers had the objective to show different forms of creation, research and use of disinformation.
Jamila Milović-Halilović had a lecture in the introductory part of the seminar. She presented ways of how to prevent launching of disinformation used in the European Union, while emphasizing on key factors of education in combating the fake news.
Another lecturer was editor of Raskrinkavanje.ba website, Emir Zulejhic who disclosed the statistical data referring to disinformation dissemination. He presented which online media websites release fake news the most but also educated participants on mostly used forms of disinformation in media ether of B&H.
Besides B&H lecturers, online media representatives and other media organizations, participants could have heard about the experiences outside the borders of Bosnia and Herzegovina, more precisely from Serbia.  Ilir Gaši as media expert and author of animated show "Dr. Spin" presented the case of severe violation of media freedom in the region by providing the example of fake-information victim that he experienced (needs correction).
From the lecture of Maja Ćalović, Mediacentar Sarajevo representative, participants could have heard about the introduction into disinformation-investigation, networks and their monitoring in addition to presentation of Stefan Janjić, "Fake News Tragač" (trans. Hunter) website editor from Serbia, who through conversation with participants showed how to practically apply the knowledge and technology in investigation of disinformation.
(zenicainfo.ba)