From 6th to 12th April 2019, CIVICUS and Civic Initiatives co-hosted ICSW 2019 in Serbia. The event was held in Novi Sad and Belgrade.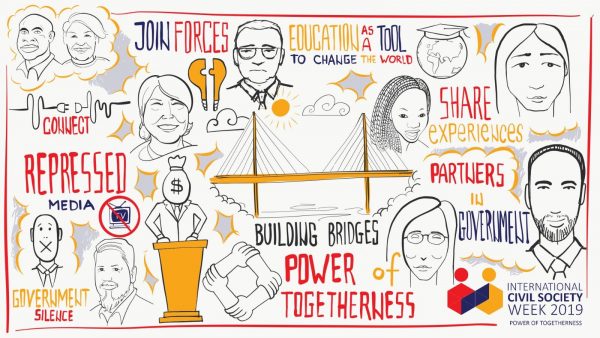 International Civil Society Week (ICSW) is a global gathering for civil society to connect, debate and create shared solutions. The event is held in places of political and social significance, in public spaces versus traditional conferencing venues.  
This year's theme – 'The Power of Togetherness' – explored ways that people and organisations around the world are working together to unlock the potential of collective action.
The ICSW 2019 programme focused on three interrelated tracks:
Bridges event sessions explored how the current regional and global civil society context is changing, and connect participants and strengthen collaboration.

Streets event sessions looked at ways to build constituencies and deepen the skill sets needed for successful civic action.

Stairs event sessions seek to identify ways to build and sustain collective impact, and connect local and global efforts.
Darko Brkan, president of CA Why Not participated in the morning plenary session, held on April 10th. This plenary session explored the most effective ways to connect and scale collective action, focusing on the following key questions:
How can we leverage data, technology and online activism for impact?

When and how does it make sense to participate in global frameworks like the SDGs?

Which new stakeholders can we engage to protect and defend civic space?

Which trans-local and intersectional movements are working most effectively and which ways of working can we apply to our contexts?
More information can be found on this link.