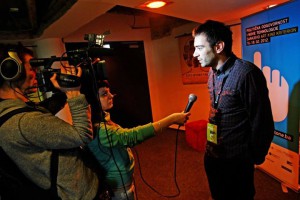 One of the five special units of the POINT conference will be dedicated to the selection and application of new technologies in election campaigns as well as monitoring of the election results themselves. Several presentations and panel discussions of the POINT conference, in which some of the world and regional leaders in the field will take part, will concentrate on elections and election campaigns in recent years which became unimaginable without the application of new technologies.
On the POINT conference you will be able find out how new technologies were used to monitor the elections, which tools were used by civil society to inform citizens about the elections, which are the tools for motivating citizens to vote, how social media can affect the electoral process, and at what stage are the political parties in BIH in the use of new technologies in the electoral process.
The first day of the conference, on February 16th, a panel discussion entitled "The use of new technologies – the true power of political parties?" will be devoted to this topic. It will be attended by representatives of political parties in BiH, as well as representatives of civil society in BiH, the region and Europe. The discussion will attempt to provide answers to various questions – how much political parties in Bosnia and Herzegovina understand the power of information technology to promote their ideas and programs? How are the Internet and social networks used in election campaigns? Do politicians communicate with their voters via social networks? How many officials in BiH are engaged in blogging?
On Thursday a presentation will be held on "New trends in interactive campaigns" on which Julius van de Laar, a political strategist and communications expert with extensive experience in managing campaigns, as one of the strategists of the presidential campaign of Barack Obama, will provide insight into how digital campaigns empower millions of people to be active in the political process, giving voice to anyone who has an Internet connection. He will also be speaking about new trends in managing digital campaigns through concentrating on new tools combined with proven strategies that will elevate campaigns and political engagement to a new level.
On the second day of the conference, February 17th, Darko Brkan from the NGO "Why Not" and Adis Arapovic from the Centre of Civil Initiatives will present Glasometar, the first computing application for testing voting preferences of voters launched for the 2010 General Elections in Bosnia by NGO "Why not." What are the profiles of voters, but also the ideological and programmatic guidance of political parties in BiH can be learned through this presentation.
The same day, Dragan Koprivica from the Center for Democratic Transition (CDT) from Montenegro will talk about the first coverage of election results through SMS, which has been implemented by the CDT during the Election Day in parliamentary elections in Montenegro in 2006.
On Friday, February 17th Alex Barth, developer and strategist of the Development Seed, a team that works with creative visualization and mapping data for Map Box, will speak about mapping of election data. During his presentation, Alex will talk about design-related issues for the best known maps that have been developed recently, including data mapping Election in Afghanistan, NPR census data, a map of the Horn of Africa on the One.org site and the World Bank's map Climate for the development. He will then explain how these maps were created and how by use of MapBox's open source application TileMill, online maps can be constructed more quickly and be more appealing visually.
Mislav Bago, a famous and award-winning journalist and political correspondent who is currently working on Nova TV in Croatia will speak about the use of new technologies for the purpose of monitoring the elections at the POINT conference on Friday, February 17th. Bago is known for an exhaustive analysis of political developments in Croatia, as a TV correspondent and reporter he covered many events in Croatia, such as presidential, parliamentary and local elections, and has also reported from the Croatian Parliament and Government. In his presentation at the POINT conference, Mislav Bago will introduce new ways of using new media in media reporting on political processes such as elections.