Fact-checking organizations from six continents gathered at the London School of Economics on Monday for the start of the Poynter Global Fact-Checking Summit – the first-ever worldwide meeting of fact checkers.FCP logo "The world needs more clarions of fact-based truth," Poynter president Tim Franklin said in his welcoming remarks. And increasingly around the world, those clarions are not actually journalists.
While U.S. readers who follow politics are likely familiar with PolitiFact, the Washington Post's Fact Checker and the Annenberg Institute's FactCheck.org, only about half of the participants in the two-day summit fit that sort of fact-checker profile.
Others fall into the non-governmental organization category, like the UK's FullFactwhich conducts fact checks on journalists as well as politicians. Some are from the tech industry, like Amr Sobhy of Egypt's MorsiMeter and John Pettus of Silicon Valley startup Fiskkit, Inc.
Also at the meeting were representatives of the Omidyar Network and the National Endowment for Democracy, both of which helped sponsor the summit and have supported fact checking worldwide. Other sponsors are the Ford Foundation, Duke Reporters' Lab, and craigslist founder Craig Newmark's craigconnects.
What attendees do have in common, if the opening day of the summit is any indication, is an intense passion for taking apart factual distortions – or, in some cases, flat-out lies – correcting and distributing them in a factual form.
That passion led Matteo Agnoletto to use his graduation money to launch Italian fact-checking site Il Politicometro; and Margo Gontar to put her cherished music career on hold to co-found the Ukrainian StopFake.org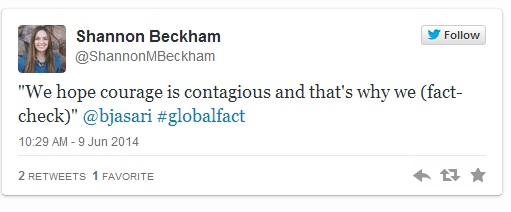 The people gathered at the renowned London research university "are true believers," said keynote speaker Neil Brown, editor and vice president of the Tampa Bay Times, home of the Pulitizer prize-winning PolitiFact and now PunditFact. "Fact-checking is not a novelty. It's here to stay."
But Brown acknowledged "the fragility of some of these operations" mainly outside the U.S. Several participants discussed their shoestring budgets, endless workload and dependence on volunteers.
"Crowd-sourcing" information through social media and fact-checking web sites is one way to wrangle bad facts, according to several organizations. Africa Check invites readers to submit their own fact checks to be studied and vetted by staffers.
And to help fact-check live public speeches and debates, Argentina's Chequeadouses both experts and volunteers – 40 of them at the last event. Watch their behind-the-scenes video of a fact check at a recent presidential speech.
Technically, fact checking has been around since at least the 80s, when the Washington Post began publishing "truth-squad" stories alongside coverage of presidential speeches, said the University of Wisconsin's Lucas Graves,  a leading fact-checking scholar. Later in the decade, ABC News began vetting political advertisements.
The first fact-checking web site was Spinsanity, Graves said, which was started by college graduates in 2001 but dismantled a couple years later.
While some fact-checking organizations are struggling, there's still growth. A burst of  new sites over the past few years has put the number at 48 active fact-checking sites worldwide, Graves said.
The conference continues Wednesday with discussions of rating systems like the Fact Checker's Pinocchios; tracking campaign promises; and using social media to help fact check debates and speeches.
Monday, June 9
This week, I'll be participating in and reporting from the London School of Economics, where what's believed to be the first international fact-checking summit in history is being held.
Why make an international case out of fact checking? After all, PolitiFact has been around since 2007, The Washington Post's Fact Checker appeared in 2008, and the Annenberg Institute-affiliated FactCheck.org was launched in 2003. "Pinnochios" and "Pants on Fire" are part of the everyday lexicon of elections among U.S. voters and have been for years.
As Peter Cunliffe-Jones said in a recent blog item, a global gathering of fact checkers "doesn't sound exciting. When I say it, it still sounds to me like the 'World Conference of Actuaries.' But believe me, it's a lot more exciting than that."
Cunliffe-Jones is head of AfricaCheck, an organization not even two years old but actually older than most of the non-U.S. fact-checking programs around the world.
For those journalists in developing countries and regions in turmoil, checking the voracity of politicians and government is a new, difficult and sometimes even dangerous exercise.  They're not only looking for ways to staff their efforts and develop their fact checking – they're trying to figure out how to do it without putting their livelihoods at risk.
Attending the forum will be journalists who work with fact checking in Ukraine, Egypt, Bosnia-Herzegovenia, Georgia, India and more. Topics on the agenda include discussions of training and best practices, tracking campaign promises, fund-raising and business models, and the growth and impact of fact checking.
And importantly, the summit — which is being produced with financial support from seven organizations — will help cement the crucial role of fact checking in democracies and emerging democracies.
Margo Gontar of the Ukraine's StopFake project said it plainly in an e-mail to me: "Fake news can ruin lives and construct new reality. In this very way checking facts and uncovering the truth can save lives and open the eyes of people."
Follow the conversation from London right here, and at #globalfact on Twitter.
This article was originally written for americanpressinstitute.org by Jane Elizabeth