An open forum "How to restore confidence in elections and the political system in BiH?" was held on May 29th. Panelists Nina Zubovic, co-ordinator of the Coalition for Free and Fair Elections "Pod Lupom", Dalio Sijah from CA Why not and Istinomjer.ba, Ivana Korajlic from Transparency International BiH and Filip Balunovic, a politologist from Belgrade, presented their views on the current political situation. The forum was moderated by a journalist Gordana Katana.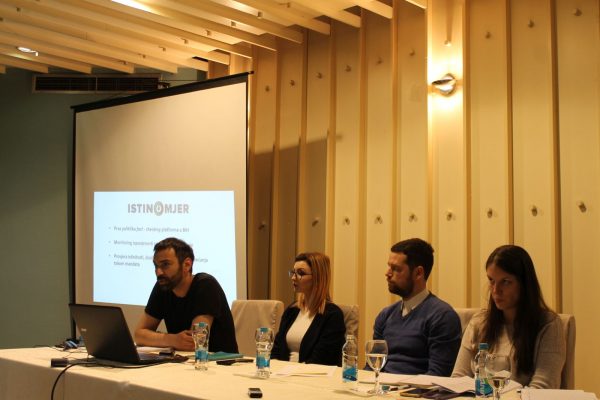 It is noticeable that the citizens of Bosnia and Herzegovina are losing or have already lost their confidence in the elections as a mechanism for changing the political picture, and therefore the entire image of our society. Democracy barely survives in any form in this region. This question is a matter of our common future, and each of us must decide how much s/he is ready to contribute in the struggle for a better future for us and our children.
Dalio Sijah from Istinomjer.ba pointed out that this platform seeks to restore confidence in the election process. This platform deals with the verification of political statements by politicians and public officials in Bosnia and Herzegovine, and they are also monitoring the election promises and the fulfillment of election promises during the mandate. They also deal with checking statements on a daily basis, the consistency of political attitudes and the fulfillment of promises that may not be in pre-election programs, but that are given throughout the mandate.
Dalio pointed out that this was the fourth term in which they checked the fulfillment of pre-election promises, and through all these mandates, they did not record the fulfillment of more than 3-5% of the promises. There were over a thousand promises in all mandates, and 966 in the last one. A large number of political programs have no clear goals, deadlines or clearly defined implementation procedures.
After the discussion ended, panelists concluded that all the problems within BiH could not be solved by the elections. That's why open forums of this type are extremely important, so that citizens are encouraged to publicly talk about their problems and irregularities they have noticed.Panelists pointed out that the position of citizens who fall under the category of "others" is extremely difficult, since they do not have the opportunity to participate in the elections, or to be elected, which leads to the conclusion that the Constitutional and legislative changes can improve their position. It was concluded that democracy must be valid for all.
Source: Oštra Nula