Representatives of CA Why not, Darko Brkan and Aida Ajanović are attending and speaking on the 6th edition of Personal Democracy Forum that takes place on April 26-27, 2018 in the European Solidarity Centre in Gdańsk, Poland.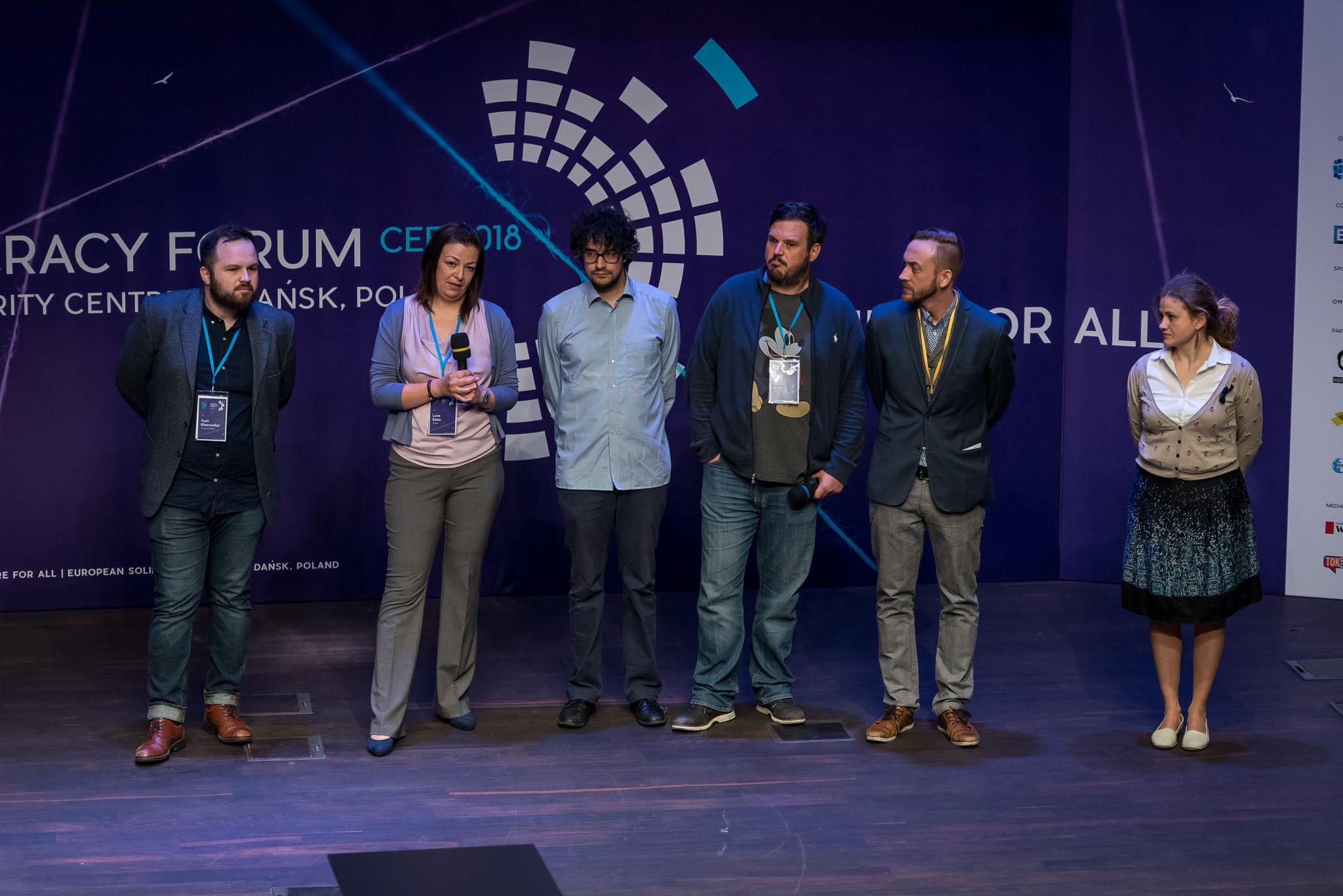 Personal Democracy Forum is a three day event, consisting of panel discussions and workshop plus this year's satellite events: Festival of Civic Tech for Democracy: Future City for All and Open Government & Public Spending.
PDF was opened by Paweł Adamowicz, Mayor of the City of Gdańsk, Basil Kerski from the European Solidarity Centre, Andrew Rasiej, from Civic Hall and by Transparencee network members: Luna Kalas, Techsoup Europe, Krzysztof Izdebski, ePaństwo Foundation and our Darko Brkan, Zašto Ne?.
On the second day, Aida Ajanović lead the workshop: "Civic technology: pushing through borders with TransparenCEE". Together with Dmitri Romanovski, Sandor Lederer and Palina Brodik they discussed ways civic technology can work across national borders and how to create meaningful international cooperation between civic tech activists. They presented the Working Groups methodology TransparenCEE Network was developing through 2017 in order to create civic tech solutions with a potential to empower activists across the CEE and SEE regions.
Civic movements round the world turn out to be not as fast as the movements of data: the unstoppable development of technology brings risk of leaving some citizens out of the decision making process and the public discourse. Should we follow known paths and adjust to the systems which would bring about inequalities or is it time to reshape the way we think about the role and the impact of national states, business, CSOs and individuals? What we need is not only the debate on how (civic tech) experts can channel their knowledge, use the power of active citizens and take advantage of technologies to improve the cooperation between society, business and government. The challenge is to foster inclusion and use accumulated civic power to influence the future with positive visions. To anticipate, not only react to the rapidly changing world.
We know that we want the "future for all". The question is when and how we will get there. This year's thematic streams are inspired by three fundamental values determining inclusive future:
DIGNITY:
The right to be safe, equal to others and free to speak their mind is inherent to all human beings. This capability is an expression of dignity – the value that should not and cannot be taken away, undermined or neglected. This is what we see as the personal level of democracy. Technologies may help improve our lives and protect fundamental values, yet first we must find the way to cushion each individual's dignity with mutual respect and thoughtful consideration.
SOLIDARITY:
Solidarity means not only to feel belonging to the specific community. As members of diverse social groups, we should have recognition of and compassion towards the other. We should understand that people are "entitled to all rights and freedoms without distinction of any kind" [Declaration of Human Rights]. Only such approach builds the foundation of democracy: fair, open and trustworthy society.
FAIRNESS:
Respect for dignity and solidarity of individuals makes a truly democratic state. The rule of law keeps the balance between various needs and obligations of both individuals and communities. Witnessing fast development of technology, however, we can clearly identify its advantages over traditional governments, also in a negative sense. Let us use the synergy of our tools sensibly to secure inclusive future for all.
Personal Democracy Forum CEE is a platform of idea and experience exchange for people working for civic participation and transparency in public life with the help of new technologies in Central and Eastern Europe. Launched in Poland in 2013, it is a regional branch of New York City PDF organized by Civic Hall (earlier Personal Democracy Media) since 2004.
Learn more about PDF on: https://pdfcee.pl/