Seven days before the conference, POINT 8.0 invites local activists, representatives of non-governmental organizations, media, students, but also those interested in areas of political responsibility, new technologies, media and social networks, human rights and many other topics to apply for participation at the conference.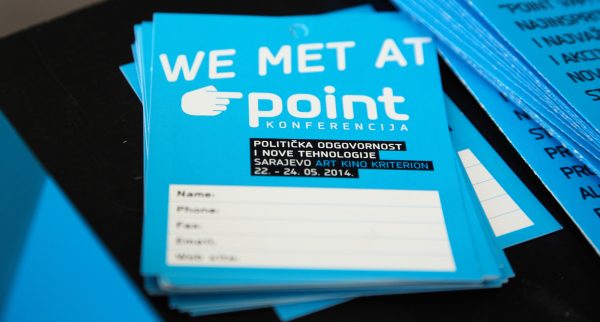 The eighth edition of POINT Conference (Political Responsibility and New Technologies) will take place in Sarajevo in Brew Imperial Society from 16th to 18th of May and will gather over 200 activists and representatives of civil society organizations from the region of Eastern and Southeastern Europe, the Middle East and North Africa, as well as other regions dealing with the use of new technologies in advocating an open, transparent and safer society.  
Organizers of the largest regional civil society conference devoted to crossroads between civil society, politics and technology have made efforts to find some of the most relevant topics and speakers in the program this year. They will talk about disinformation strategies and operations, artificial intelligence, Internet censorship, role of influencers, responsibilities of large companies for violence, and numerous civil society projects and initiatives.
You can register HERE.