Fifth edition of regional POINT Conference (Political Accountability and New Technologies) was held in the period from 25th – 28th of May 2016 in two cities (Sarajevo and Banja Luka) and in several venues. As in previous 4 years, POINT 5.0 gathered civic society organizations and individuals who combine new technologies and activism in their work of advocating civic responsibility and government accountability. POINT 5.0 hosted more than 200 participants from all over the world as well as many local and regional activists.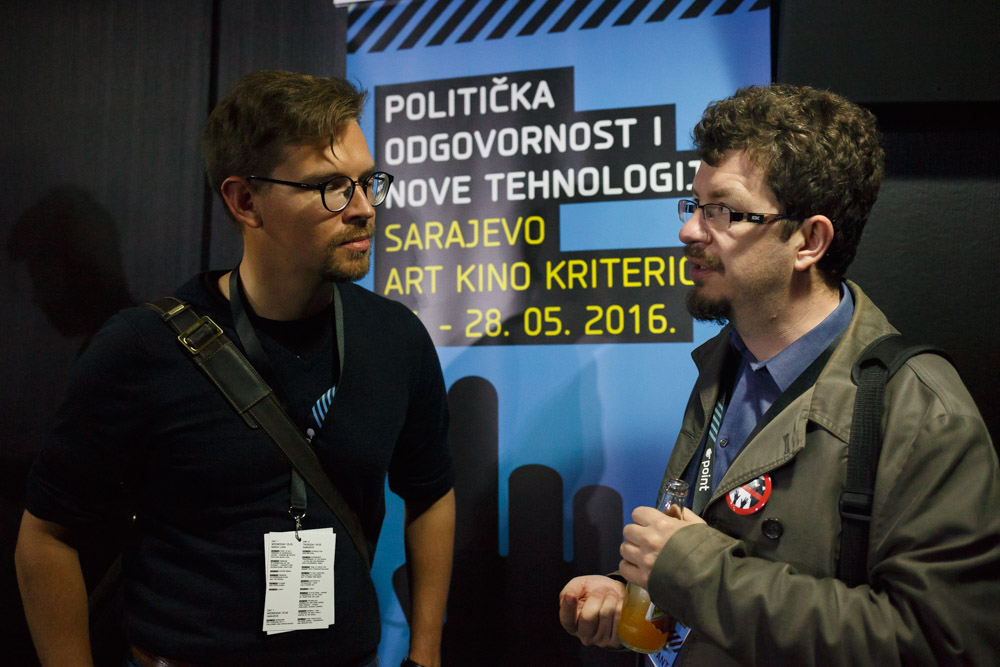 As the world went through couple of grand turmoils in relation to digital rights, censorship and surveillance and whistleblowing that had happened in the recent year, POINT was full of heating discussions regarding on-going problems, some specific for the region, and some which activists are facing internationally.

POINT 5.0 started with a 'Day of advocacy for online freedom of expression' – POINT W Day that took place in Banja Luka, capital of Republika Srpska. This event hosted around 50 participants, local and international. Through 3 panels participants explored topics from censorship to recent Law of Public Order and Peace that entity of Republika Srpska had just adopted.  POINT W day was organized with Internews in Bosnia and Herzegovina, as a part of their Project W.
Parallel to the event in Banja Luka, a fact-checking workshop was happening in Sarajevo with moderation done by editors and producers from famous fact-checking shows all over Europe (Poynter, Rai 2, El Objetivo, Channel 4). Experiences and good practices in the field were successfully exchanged.
First panel of the day was Government Transparency in the Region – ACTION SEE and Regional Open Government Index, which was followed by:
"How to cross the bridge" with TechSoup Balkans;
TV Fact-checking: How can fact-checking get to prime time news?;
US Elections – Making it Meaningful in the Times of Trump and the Likes;
Technology, Journalism, and some Papers from Panama – Stories Published, Lessons Learned; Georgia – How to Become the Best Public Service in the World;
Four Years After the Arab Spring – Experiences and Perspectives;
Skopje 2014 – Using Cool Apps to Expose Corrupt Government;
Civic Activism and Elections in Russia and Ukraine – What are the Perspectives.

After the intense block of sessions and panels, participants could enjoy "The Yes Men are Revolting" – Movie screening or attend Book promotion "Feb je čekao olovku" that was organized simultaneously with the movie projection as a part of an evening programme.

POINT 5.0 Day 2 started with Motivating Stories from the Balkans , which was followed by:
Make Me a Parliamentarian – Putting Citizens in Parliamentarian Seats with Online Platforms;
"I Walk Freely" – Harassment Reporting Platform in Kosovo;
Technology and Refugee Crisis – What Works and What Does Not?;
TV Satire – Making Politics Interesting on Screen; Freedom of Expression Online Between Corporate and Government Censorship;
Fact-checking Media – New and Innovative Approaches to Making Media More Accountable;
Girls in Tech;
Scaling Tech Projects – What Works and Why?;
Opening Data in Albania – Open Contracting and Mapping Money.
Evening programme was reserved for the promotion of the Njuz.net book – "The Real History of the World", which turned to be a quite of success, reflected in the fact that many locals arrived into Kriterion for their dose of political satire.

Last day of the conference was reserved for three blocks of workshops, with Networks building as the venue.

Workshops from the first block were:  

1. Testing Principles – How to think like a pernicious and preventing failures (Albana Berisha, Computer Science student, Kosovo)
2. Fact-checking and Technology (Joe Fleisher – DevelopmentSeed, Krzysytof Madejski – Fundament)
3. Comparing government openness as an advocacy tool (Milena Gvozdenović – CDT, Jelena Berković – GONG, Anna Kuliberda – TechSoup, Darko Brkan – UG Zašto ne)
4. NFC workshop  (Kemal Srna, Klika.ba)

Workshops from the second block:

1. Using technology and innovation as a tool for promoting and establishing good governance
(Michal Skop -Kohovolit, Dušan Jordović – CRTA, Anna Peniazko – Slovak Governance Institute, Ondrej Gallo – Pontis Foundation, Dona Džambaska – Metamorphosis)
2. The role of the libraries in open data and privacy (Dimitar Poposki, Information Professional)
3. Cyber Warfare (Drinor Selmanaj, Hello World)
4. Keeping privacy online (Rita Zagoni, Central European University)

And the final workshop, THE OUTSOURCED: Who cares for our digital waste? was held by Moritz Riesewieck, a researcher from Germany.

All sessions from POINT 5.0 Conference are available online and can be found on our website www.point.zastone.ba, along with presentations of speakers.