CA Why not on the public debate about the amendments to the Constitution KS
Representatives of CA Why Not, at the end of last week, participated in public debate on the recently amended amendments to the Sarajevo Canton Constitution. Public discussion was organized by the Civic Initiative Centers (CCI), in cooperation with the Ministry of Justice and Administration of the Canton of Sarajevo, with the support of the Government of Switzerland.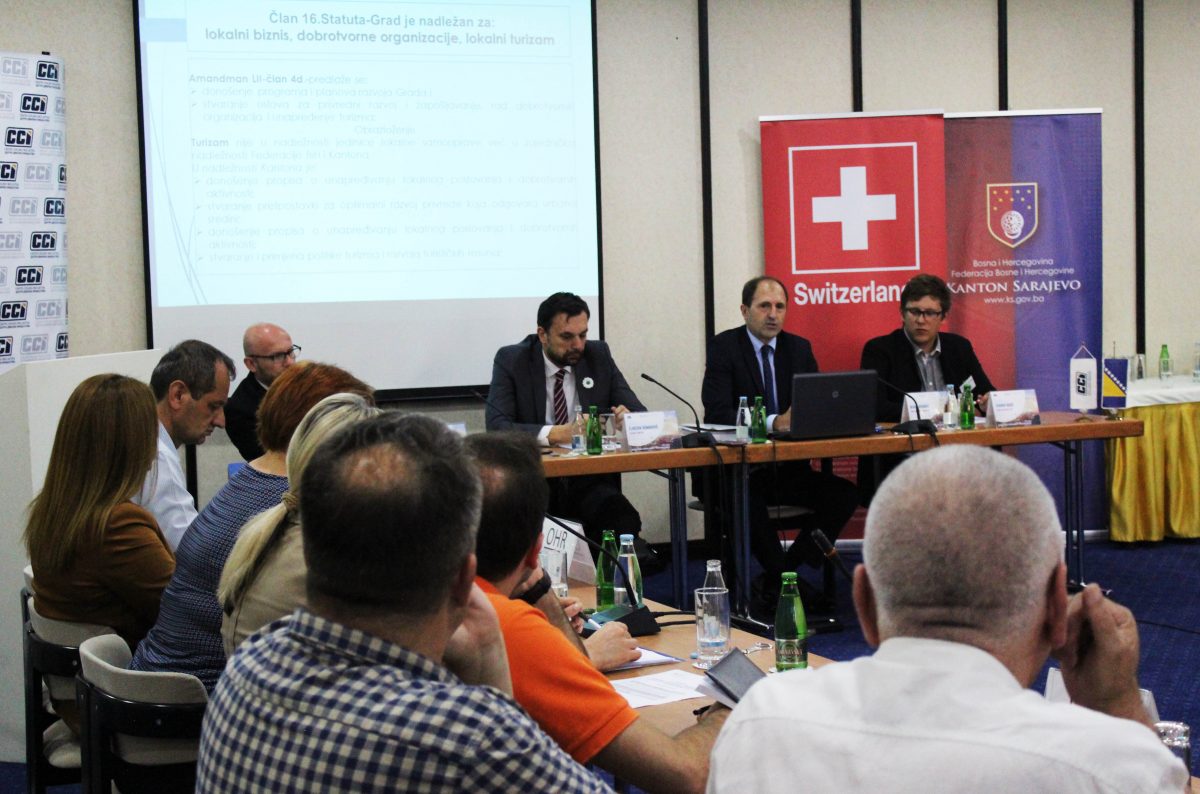 Adis Arapović (CCI) spoke about the role of civil society in the reforms of the KS Constitution, and the aim of the Public Debate was to present the contents of the Amendments to the Sarajevo Cantonal Constitution and to discuss with the participants about the proposed changes.
We call upon the political parties and the representatives of the Canton Sarajevo Assembly to give their maximum contribution at the next session of the Assembly in order to eventually draft the proposals of the Government and to ensure broad assembly support for this massive reform. We do not think that anyone, and at least citizens and local governments, uses the rejection of this reform, so we hope for unanimous support for the reforms. This is a prerequisite for passing a number of extremely important laws that will strengthen local self-government, improve the quality of public services, and ultimately send a picture of Sarajevo as the center of good decisions and responsible politics.
(Adis Arapović, CCI, 14.07.2017.)
Prime Minister KS Elmedin Konaković and Deputy Minister Mario Nenadic spoke about the position and plans of the Government of KS and the proposed amendments to the Constitution.
Amendments to the Canton Sarajevo Constitution are a prerequisite for its regular functioning because the utility system is integral, atypical and different from others.
(Elmedin Konaković, 14.07.2017.)
Minister of Justice and Administration KS Mario Nenadić pointed out that the amendments to the Constitution have so far been the most serious issue proposed by the Government of KS and that the verdicts of the FBiH Constitutional Court have confirmed that Canton Sarajevo has repeatedly violated the rights of local communities. The aforementioned judgments directly concern the violation of local self-government law, and four judgments were passed due to the incompatibility of the Constitution of the KS and the Constitution of the FBiH, and the Law on Principles of Local Self-Government and the European Charter on Local Self-Government.
In order not to be afraid of complications, the amendments to the Constitution have a delayed effect in the sense that within two years the issues of functioning and the final issue of local authority competence will be addressed.
(Mario Nenadić, 14.07.2017. )
It remains to be seen whether political parties and MPs at the Assembly of KS will contribute to the upcoming sessions in order to develop and improve the proposals of the Government of KS, related to constitutional reforms, and thus provide support for this Important reform.