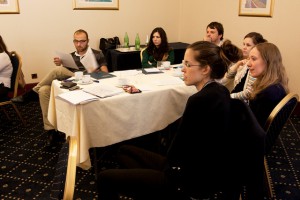 Roska Vrgova, researcher at "Zašto ne", together with her colleague Jovan Bliznakovski from the Institute for Democracy "Societas Civilis" from Macedonia presented the initial findings and recommendations on physical segregation and separation in primary and secondary schools, in the cases of Bosnia and Herzegovina and Macedonia, at the introductory seminar of the TRAIN program 2013, held in Zagreb from 14-17 April 2013.
The presented policy brief was based on the deck research which both researches conducted on both countries. In the upcoming period May-August they will gather more empirical data, by visiting schools and talking with school officials, different national and international organizations dealing with the topic, and they will organize interviews with teachers, parents and students.
Besides the opportunity to present and receive peer and senior feedback on their policy briefs, the participants in the seminar also had a chance to exchange different experiences in the area of writing policy papers, and successful advocacy campaigns conducted in the Western Balkan region.
The TRAIN program is implemented by the German Council on Foreign Relations (Deutsche Gessellschaft für Auswärtige Politik) with headquarters in Berlin. The program focuses on strengthening the research capacities of organizations and think tanks active in the Western Balkans region, in analyzing policies and creating relevant recommendations which contribute to speeding up of the EU integration processes. Participants in the TRAIN program 2013, besides CSO "Zašto ne", and the Institute for Democracy "Societas Civilis" (Macedonia), are the following organizations: Analytica (Macedonia), Institute for Democracy and Mediation (Albania), GONG (Croatia), MANS (Montenegro).