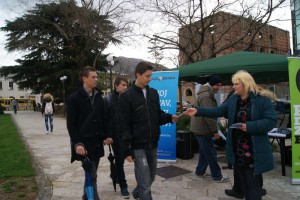 Activists of C.A. "Zašto ne" on 29th and 30th of march held street actions in Mostar and Livno where the public was presented with the project "Moj ustav, bolji ustav!" (My constitution, better constitution) – a web application which aims to bring understanding of constitutional provisions and all proposed amendments closer to the public and enable users to provide opinions, solutions, and submitting amendments of their own to the constitution of BiH, Federation of BiH and Republika Srpska.
The two street actions are part of 40 others which will be held in over 30 cities and towns across BiH with the goal of bringing online platforms of C.A. "Zašto ne" closer to the public which doesn't have internet access. Every street action will feature an improvised computer lab with 10 computers, directly enabling the public to use and familiarize with the web platforms.
Portal "Bolji ustav" (Better constitution) was started out of the need to hear voices of BiH citizens regarding key reforms, as they are currently completely devoid from participation, offering the only available space for citizens to voice their opinions on constitutional issues in BiH.  The project is implemented by C.A. "Zašto ne"in cooperation with C.A. "Oštra nula"  from Banja Luke, with support from "Centar Civilnih Inicijativa".
As part of the street actions in Mostar and Livno, other projects in the sphere of new technologies by C.A. "Zašto ne"  were presented to the public , including the online platform "Popravi mi školu" (Fix my school) used for reporting problems in the education system, webpage "Pravo da znam" (Right to know) created in order to enable the public utilize their right to free access to information in order to foster a more accountable and transparent government.
Other than being introduced to various web platforms, the public also gave support to the campaign "Građanin/građanka prije svega – za BiH bez diskriminacije!"  (Citizen first – BiH without discrimination) conducted by Coalition "Jednakost" (Equality), whose members among others include C.A. "Zašto ne" and  C.A. "Oštra nula".
All interested can inform themselves on the campaign and its current and future activities and take a photo with a message best expressing their  identity for the upcoming census or opinion regarding discrimination on ethnic grounds. All photos will be posted on the website of the campaign and will hopefully motivate others to give their support in the common struggle against discrimination.