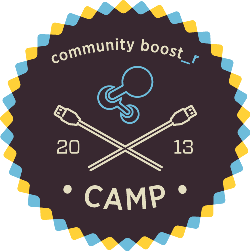 On Thursday and Friday, Nov 7-8, in Sarajevo in the Center for Interdisciplinary Postgraduate Studies (ACIPS) the community boost_r camp will be held and will bring together nearly 150 participants from five countries of the Western Balkans (Bosnia and Herzegovina, Croatia, Montenegro, Kosovo and Serbia).
During the two days of the camp, participants will focus on the use of data in the monitoring of political accountability and in the development of strategies for monitoring of the level of corruption as well as on the use of open data and new technologies in the advocacy activities conducted by civil society organizations.
The event is part of a larger project called community boost_r that promotes new technologies for active involvement of civil society concerning responsible and transparent society. This year's camp is a continuation of events such as the Balkan Challenges and TechCamp held in Sarajevo in October last year, which focused on the use of new technologies for the greater involvement of citizens in topics like transparency and accountability. Balkan Challenges supported the development of new websites and applications aiming at increasing the civic participation throughout the region. Last year's TechCamp attracted a over100 participants from the countries of the Western Balkans, as well as tech-trainers from around the world.
Community boost_r camp is organized by Fundacja TechSoup (TechSoup Europe) and UG "Zašto ne" (BiH) in partnership with Dokukino Foundation (Serbia) and IPKO Foundation (Kosovo), and with the support of the Charles Stewart Mott Foundation, the National Endowment for Democracy and the Embassy of the United States in Bosnia and Herzegovina.
You can read more about the initiative on the website communityboostr.org. The list of the participants of the camp can be found on the website camp2013.community boost_r.org.
If you want to get the accreditation for this two-day event and if you have any questions or want to arrange an interview with participants, you can contact the PR Department at the e-mail address dalio.sijah @ gmail.com or by phone at +387 (0 ) 61 781 081