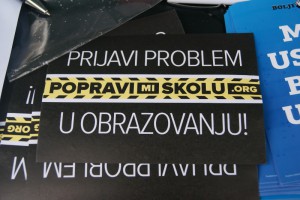 Fix my school is a portal that is intended for all persons involved in the educational process in BiH. First of all, portal is made in order to provide students with a virtual space where they can report their problems, discuss them, and encourage them that they are the ones who will drive positive change and work to resolve issues that concern them.
In order to have better access to the problems in education, in cooperation with the Association of adolescents in BiH, we organized training for students who are drawn to the opportunities provided by the site, which by the end of training become verifiers, a person who will check the reported problems on the page and mark them as present and real which such problems will be a priority when handling them.
Training was held on the 03rd and 04th of November and was attended by thirty young people from across the country: Mostar, Sarajevo, Tuzla and Bratunac, Banja Luka, Lukavac, East Sarajevo, Gracanica, Srebrenik, Visoko , Foca, Bijeljina, Zenica, Travnik, Maglaj, Busovaca, Prijedor, Kalesija.
During the two-day training, participants have worked out already reported problems on the site and have talked about ways of verifying them. We worked on a method of verification problems, how to access them, where to go and how others draw attention to the reported problem and encourage them to be themselves activated to resolve it.
The problems that the participants  have commonly cited are infrastructural problems, lack of room for physical culture, inadequate toilets even to the point of having no school building and were forced to use someone else's room. One of the problems that was also often cited is the corruption that is present in high schools and colleges.
Another area that we handled is the promotion portal in local communities and schools, where we discussed and developed best practices in the promotion of access portals and the problems in the schools.
The next step we will go along with the verifier is involvement of representatives of educational institutions and their active involvement in the work site. It will include representatives from schools, education ministries and other institutions working in the field of education. We want to encourage cooperation between the students themselves and their school, and then begin to concretely solve issues at the ministerial level in BiH.