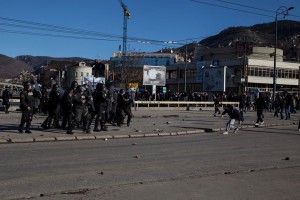 Please join the U.S. Institute of Peace and Emerging Democracies Institute in one of the earliest opportunities for a public discussion with experts examining whether the ongoing protests in Bosnia and Herzegovina cause concern for the upcoming elections.
Bosnia and Herzegovina is in the deepest political crisis since the Dayton Peace Agreement ended the war in 1995. Years of political deadlock, dire economic conditions including an unemployment rate hovering above 44 percent, and growing impatience by citizens with their political leaders, fueled violent protests across the country and led a number of government officials to resign.
The constitutional structure designed in Dayton succeeded in ending the war but its critics argue that it has prevented the country from developing beyond wartime divisions. Noted experts on the region will examine whether the recent wave of protests will impact the election and whether meaningful change within present constitutional structures is possible.
This event will feature the following speakers:
Reuf Bajrović, Discussant
President, Emerging Democracies Institute
Milada Vachudova, Discussant
Associate Professor, University of North Carolina at Chapel Hill
Darko Brkan, Discussant
President, Zasto ne
Renata Stuebner, Moderator
Senior Program Specialist, U.S. Institute of Peace
(usip.org)