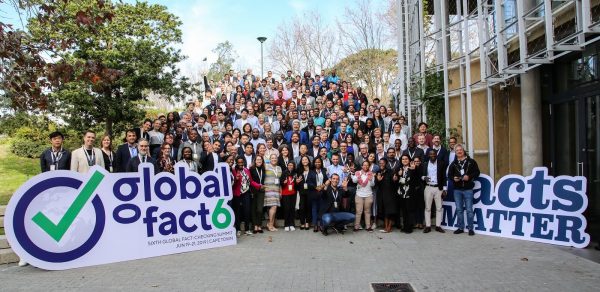 Global Fact is a conference devoted to fact-checking from across the world, organized by International Fact-Checking Network within Poynter Institute for Media Studies. This year's "Global fact 6" has been held in Cape Town, South Africa. It was the biggest and the most diverse fact-checking event in history, accommodating more than 250 participants from 146 organizations representing 55 states from around the world. Earlier editions of this conference were held in London (2014 and 2015), Buenos Aires (2016), Madrid (2017) and Rome (2018).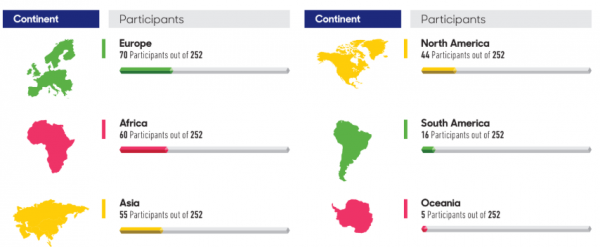 40 sessions in total were held in the premises of the University of Cape Town where participants had the opportunity to listen to 57 panelists and lecturers. "Global fact 6" dealt with some of the burning questions regarding fact-checking and disinformation checking, including:
       

Impact and reach of fact-checking

       

Presence of disinformation across platforms

       

Monetization and revenue sources

       

Now forms of fact-checking

       

Acceleration and automatization of fact-checking process

       

Headlines' impact on readers

       

Fact-checking in repressive regimes

        

Usage of various platforms for cooperation between

fact-checkers
Ojo, a TruthBuzz Fellow from the International Center for Journalists, said that the biggest mistake many fact-checking organizations make is not tailoring their content toward mobile formats.
"Whatever you're doing, when you're trying to get people on your phone, it has to be very brief, because their attention span is so short."
Alongside to 40 sessions and discussions, University premises hosted also workshops with partners from Facebook, Google, Duke Reports Lab, and other. This is a unique and rare opportunity for organizations dealing with fact-checking to meet with global tech marvels, with the possibility to promote the idea of combating the fake-news and manipulative reporting on social networks and internet in more general.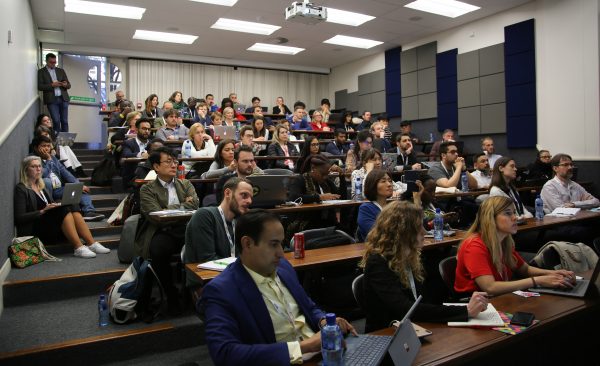 At a workshop on Wednesday, Jessica Collier from the Center for Media Engagement at the University of Texas at Austin and Joanna Sterling from Facebook presented some research findings that are helpful for fact-checkers seeking to increase their impact on Facebook.
Their first tip was that headline format matters. Of three different styles that were tested with users on Facebook, researchers found that wording headlines in the form of a refutation — "No, it isn't true that X" — was the most surefire way of informing users. Both questions ("Is X true?") and simple assertions ("X is not true") were not as potent.
Sterling also added that carefully chosen pictures and logos can help users remember the information. Photos with humans at the center or with one clear, relevant focal point are ideal, and including a clear logo of the organization helps drive familiarity and trust.
She recommended keeping text to a minimum both in the headline and the image.
Facebook also had representatives dealing with collaboration of this company with fact-checking organizations which is reflected in "Facebook third-party fact-checkers partnership" program.
Google also wants to make it easier for people to find analyses from fact-checking organizations. In order to achieve that, Google Company developed another version of the internet browser. Google News Initiative launched beta version of a tool that has been specially intended to fact-checking purposes.
"The aim is that persons dealing with fact-checking find all earlier analyses written on certain topic by all other fact-checkers easier. For users, use this if you want to find out more about the topic of interest," said Cong Yu, Google's researcher.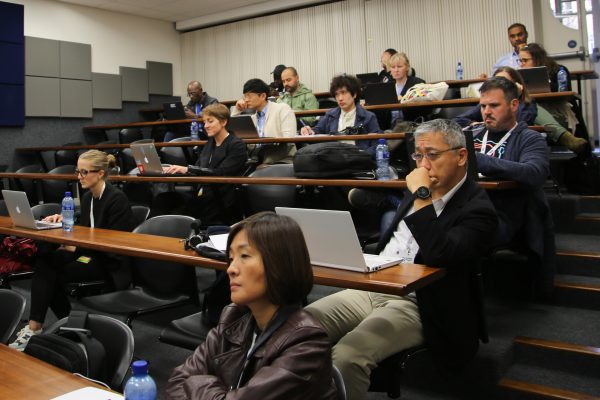 Alongside with new fact-checking browser, Google also launched a newer version of ClaimReview tool, which is basically additional rows of code used by fact-checkers on their websites in order to help their analyses to get better position in users' browsing results and better position among other articles and news (such as claims, author/source, and rating). Result of this collaboration is that when results of browsing appear, alongside with originally rated articles or politicians' claims – there are going to be also analyses of the same articles or statements done by fact-checkers. By doing so, Google makes possible that analyses of incorrect information come directly from the users who are browsing already rated incorrect information.
"ClaimReview is one of the untold stories on success of fact-checking movement. It provides help to the people to find facts in browsing results and help people in fact-checking business to widen their audience and overall reach," said Bill Adair, Reporter Lab director of Duke University.
The similar possibilities of linking rated news with analyses in search results and timeline follows from the cooperation with the Facebook as well.
There is a list of some organizations whose representatives took part in the conference (most of them were signatories of Codex of International Fact Checking Network):
Washington Post 

Agence France-Presse (AFP)

The Associated Press

Politifact 

Full Fact 

Lead Stories

France 24 observers

Africa Check 

FactCheck.org

Agência Lupa

Chequeado 

American Press Institute 

Global Investigative Journalism Network (GIJN)

Global Press Journal

International Center for Journalists

Deutsche Welle

Deutsche Presse-Agentur

Media Legal Defence Initiative

Facebook

Google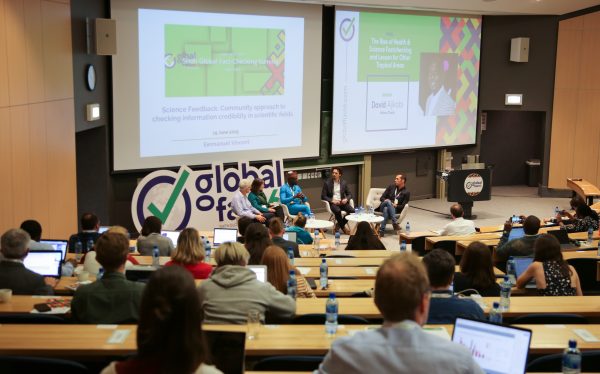 Speaking of Bosnia and Herzegovina, "Raskrinkavanje" and "Istinomjer", both publications of Civic Association "Zašto Ne" (tran. "Why Not?"), are the only signatories to IFCN codex therefore only carriers of "verified" badge and members to International Fact-Checking Network (IFCN). Besides that, Tijana Cvjetićanin, editor on Raskrinkavanje.ba website, is a member of the steering board in this crucial world network for fact-checking since this year. On this summit, CA "Why Not?" has been represented by Emir Zulejhic, chief editor of Raskrinkavanje, and Darko Brkan – president of the Association and member to both teams of "Raskrinkavanje" and "Istinomjer." This summit has been utilized for exchange of experiences and presentation of results which "Raskrinkavanje" team gained through research on the topic: "Disinformation in online sphere: Case of B&H," published in May of this year.
Some of the topics that were discussed by our organization on conference included new network of organizations dealing with fact-checking in the region of Southeastern Europe as well as emphasizing on collaboration of tech magnates with organizations coming from this part of the world – something that has perspective and certainly would be publicized in the period to come. Organizations from the region also paid a visit to the summit: Association "Crta" as publication of "Istinomer" from Serbia and organization "Gong" and their publication "Faktograf" from Croatia. On the other hand, there are other publications in the region which use both name and methodology of "Raskrinkavanje" – in Macedonia, Slovenia, Serbia and Montenegro, but they are still waiting for verification process of IFCN board. We sincerely hope that these organizations will soon become fully fledged members of this international network. 
(Raskrinkavanje.ba)