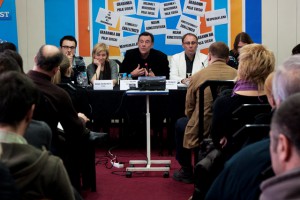 Coalition "Jednakost" (Equality) declares that any model of constitutional reform proposed by the coalition of four parties in government, which introduces unequal value of votes for BiH citizens from any part of BiH, is completely unacceptable.
As the entire negotiating process between the coalition parties on the model of implementing the Sejdić – Finci ruling lacks transparency, even initial reports are causing concern that the new proposal by HDZ BiH and HDZ 1990 represents an attempt to introduce unequal voting rights in the Federation, which represents a step back for the entire process in the moment when an agreed deadline for a solution has not been met.
If the proposed model envisions establishing cantons as election units for electing members of the BiH presidency, it must not lead to an electoral system where cantons with widely varying voting populations carry the same number of electoral votes, as is evidenced by latest media reports on the process. The proposed model would directly undermine the equal value of votes by citizens which live in cantons with a significantly larger population and would therefore establish additional discrimination based on the unequal value of voting rights.
Bosnia and Herzegovina is a state where directly elected government positions are voted directly by citizens and this principle must not change. Every model which would erode this principle would represent a regression of democracy and as such is completely unacceptable as a consideration by political parties and institutions. Votes of BiH citizens should not carry unequal value based on ethnic, territorial, or on any other basis as all citizens should have equal rights and opportunities to elect officials during elections.
We remind the public that the coalition of civil society organizations (today forming the core of Coalition "Jednakost") rejected the first model proposed by SDP and HDZ BiH based on similar grounds as the model proposed introducing unequal value of votes determined by the proportion of constituent peoples in FBiH cantons, which would as a result represent an instrument of apartheid in the BiH constitution.
Therefore, we remind all participants of this process that introduction of new discriminatory measures cannot be part of any model for implementing the Sejdić – Finci ruling and that the Coalition will reject any such model and openly call on citizens to boycott all political parties which accepts such principles even for furthering negotiations on the model. All participants of the process must be aware of the negative consequences for BiH if the Sejdić – Finci ruling is not adequately implemented. Any model which is affirmed by the BiH Parliament will also have to be verified by the Council of Europe in order to determine if the new model is discriminatory and if there is basis for new legal process and lawsuits against BiH at the European Court of Human Rights.
If the necessary criteria are not met, BiH will not be able to become an EU candidate which would seriously undermine the European integration process of BiH. Clearly, the proposed model which introduces unequal value of votes does not meet the necessary criteria and would have negative consequences for BiH in its international position and development.