Activists from Kosovo and Bosnia, meeting on Friday in Pristina, called on their respective governments to end their pointless and destructive feud .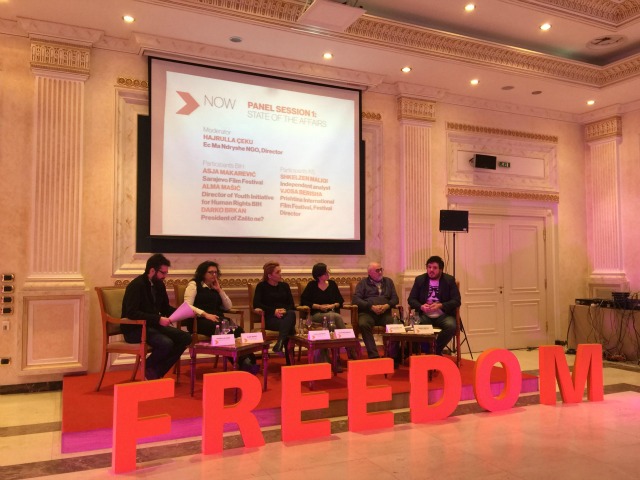 Activists from Bosnia and Kosovo meeting in Pristina on Friday issued a joint call to their governments to end the visa restrictions impeding relations between the two countries.
The conference in Pristina, part of the "Open Talks Initiative," brought together journalists, academics, activists and artists to discuss economic, cultural and social ties – and the lack there of – between Bosnia and Kosovo.
"Many things are absurd in the Balkans but this is truly the stupidest!" Azem Vllasi, a lawyer and former President of Kosovo before the collapse of Yugoslavia, said.
"How can it be that Kosovans wait months to travel to Bosnia, with whom their country was never at war, while they can travel freely to Serbia?" he asked.
Discussion centered on the lack of awareness, especially among younger generations, of the respective countries.
"When I told my children I was going to Sarajevo, they asked where it was," Agron Bajrami, editor-in-chief of the Kosovo daily Koha Ditore said.
"Yet they know where London and Tokyo are. We are neighbours, but the only thing that they associate with Sarajevo is a burek [savoury pastry] shop, and with Banja Luka only a type of cevapi [minced meat]."
Slobodanka Dekic, of the Sarajevo-based Media Center, said that in addition to scrapping visas, decades of prejudices need to be combatted before relations between Bosnians and Kosovars can improve.
"It is not only technical issues like visas but the prejudice that Kosovars experience [in Bosnia]," Dekic said. "There is so much prejudice and hate speech that must be overcome."
Travel between the two countries was always difficult because of the poor state of road connections but it was not restricted until Kosovo declared independence from Serbia in 2008.
Bosnia and Herzegovina has since refused to recognize Kosovo because the Serb-dominated entity of Bosnia, Republika Srpska, refuses to allow it. Instead, Bosnia imposed a strict visa regime. Kosovo reciprocated in 2011.
"The reciprocal measures were unnecessary; it would have been better to find different ways to influence Sarajevo and Banja Luka, so this anomalous visa regime, if not completely repealed, was at least softened," said Kosovo analyst Shkelzen Maliqi.
"Our politics is a politics of ghettoization," Bosnian transparency activist Darko Brkan, of the NGO Why Not, said.
Economic ties are also weak and as a result the economies of both countries suffer.
There was consensus at the conference that increased pressure from the European Union to foster dialogue between the two countries, as it has done between Serbia and Kosovo and between Serbia and Albania, would be valuable.
Alban Hashani, director of the Economic Institute Riinvest in Pristina, said that exports from Bosnia to Kosovo are declining rapidly.
The meeting in Pristina is part of the Initiative for Open Discussion led by Foundation Dokukino with the support of the Kosovo Foundation for Open Society and the Open Society Fund, in partnership with the Youth Initiative for Human Rights in Bosnia and Herzegovina.
Written by : Valerie Hopkins
(balkaninsight.com)