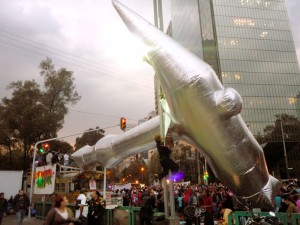 Art and civic activism are often combined for activism for finding new methods for creative resistance. POINT 2.0 conference will give special attention to artistic methods of protest with participation of Artur van Balen, a Berlin based activist who will share his expertise and methods in making large inflatables that can be utilized for various protests and actions for the purpose of attracting media attention.
First full day workshop will be held before the official start of the conference on Monday, May 20th at Art House Cinema Kriterion from noon to 7pm. The second workshop will be held on Friday 245h of May where Artur will present modeling of smaller and simpler inflatables. All inflatables created during the workshops will be displayed on Saturday 25th of May.
If you wish to participate in the workshops and learn how to model inflatables, simply register via email to [email protected].
Artur Van Balen is the co-founder of art and activist group eclectic electric collective (e.e.c.) and online platform www.toolsforaction.net. He also cooperates with various civil society organizations and eko groups.
Inflatables are multifunctional and can embody radical ideas, statements and humor, their main advantage and purpose is their visibility in public and ability to draw attention. One example is the 12 meter inflatable hammer which Artur made for protesting policies of the UN climate change conference held in Cancun Mexico in 2010.
El Martillo – trailer berlin mexico from Artur on Vimeo.
The sculpture was destroyed by Mexican police in front of the media, however this event was broadcasted around the world and became a symbol of the international climate movement. Artur also modeled various other inflatables such as stone inflatables during May Day protests in Berlin, 2012, inflatable in shape of an orange during protests against right wing movements in Hungary in 2012 and inflatable slipper for supporting women's rights in India, 2013.