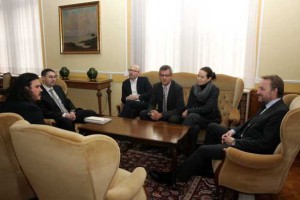 Member of the Presidency of BiH Bakir Izetbegović welcomed todays visit by representatives of five civil society organizations committed to values of democracy and responsible government.
Izetbegović informed the representatives of ACIPS, Association "Zašto ne?", Transparency International BiH, Law Institute in BiH and Center of Civil Initiatives on the current activities and policies of the Presidency office.
During open conversation, discussion focused on the current political and economic situation in the country.
Special attention was given to the proposed changes of laws on state level, which area product of agreement by several political parties present in government.
Together they concluded that the proposed changes directly challenge completed reforms and current reform efforts and undermine the interests of BiH.
During the meeting, a collective readiness was highlighted in intensifying cooperation between state institutions and civil society.
It was deemed that cooperation can increasingly support democratic development of our country and the speed up the process of euro-atlantic integrations, as stated by the cabinet of Izetbegović.