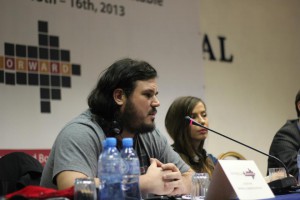 From 13th to 16th of March 2013, organization "Mjaft!" held a regional conference FORWARD in Tirana, Albania. The goal of the gathering was to present the best methods of utilizing new technologies and tools in monitoring government institutions and elections in the region.
This conference was attended by participants from 10 different countries, including: Albania, Macedonia, Kosovo, Montenegro, Serbia, Bosnia and Herzegovina, Moldavia, Ukraine, Georgia, and Kyrgyzstan, with 12 organizations from Albania and 16 organizations outside of Albania, which shared their experience and methods in utilizing new technologies as tools for fostering accountability and transparency of government.
The gathering was initiated by the "Mjaft!" organization, which is part of a network that gathers partner organizations  Zašto Ne (BiH), Crta (Serbia), Metamorphosis (Macedonia), and CDT (Montenegro).
One of the main goals of the conference was to present Mjaft! initiatives, including the "Public Platform", which is based on tri key online tools:
Istinomjer (www.vertetematesi.info) –project which aims to foster transparency and accountability of daily political statements towards the public.
Glasometar (www.votematesi.info) – project which aims to educate and assist voters with political party programs in the sphere of education, taxation, healthcare, infrastructure development, environment, and other areas of interest to the public.
Fix-it (www. uneraportoj.mjaft.org) online platform which enables users to voice and locate problems connected to infrastructure in Albania.
The conference featured more than 13 lectures which encompassed a various array of issues and problems faced by civil society organizations in using IT tools.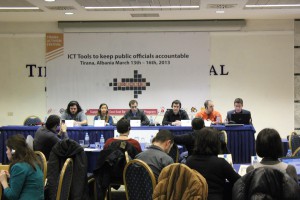 One of the goals of the conference was to develop cooperation between organizations which use the "Istinomjer" platform. The conference helped participants discuss the future projects of the network. It is important to mention that our organization (Zašto ne) was the first to develop a method of measuring and accountability of statements on the Balkans. Through Multiplication lab (project for development of new online tools in BiH and the region) we have successfully implemented "Istinomjer" and "Glasometar" projects in Macedonia, Montenegro, and Albania.