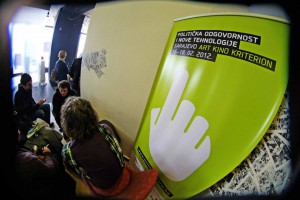 POINT conference will be held from February 16 to 18 in the Art Cinema Kriterion in Sarajevo. It is organized by the NGO "Why not" from Bosnia and Herzegovina, CRTA from Serbia and the Metamorphosis Foundation from Macedonia. The conference will be attended by over 300 participants from Bosnia and Herzegovina, the region, Europe, U.S., Egypt and other countries of the world.
The POINT conference on political responsibility and new technologies, is the first conference of this kind in Bosnia and Herzegovina and in the region, it will "bring" civic activism, political accountability, new media and new technologies at the same place. During these three days, the conference will, through about 30 events present some of the biggest names in the above areas, and host more than 50 speakers and panelists. POINT will be organized on the model of the world's leading conferences of this type, with dynamic and effective presentations with the participation of the audience, where the presentations will be supported by new technologies and multimedia, and provide the possibility of following conferences online, participation and communication through video links, social networks, etc. The conference is completely public and open to all those interested, but everyone will have to pre-register due to limited capacity.
Except through the main Point Live program, the conference will be realised through three complementary areas: PointOnline, PointShare and PointFun.
PointOnline will present a virtual dimension of the conference, that is, online tracking event via live streaming with 5 cameras set up in the hall, and will include interactive communication over the Internet from remote locations with speakers. PointShare is a part of the conference on which the regional civil society organizations will get more space to share their experiences, but also to get acquainted with the knowledge and experiences of experts at the conference. Evening classes are reserved for PointFun, a music program that POINT will offer to guests and visitors of the conference.
"The goal of the conference is to bring local and regional civil society activists, campaign strategists on new media, eminent civil society and online media representatives from Europe and the world at the same place, and to provide them with a space for the exchange of information and experiences. Thus, the conference will host some of the people whose work changed the perception of politics in the U.S. or the UK, people who worked on the campaigns of Barack Obama, the participants of the "Arab Spring" in Egypt, the leading persons of the regional and local media, as well as representatives of local civil society groups whose projects have changed the political and social dynamics in BiH and the region. "- said the organizers of the conference.