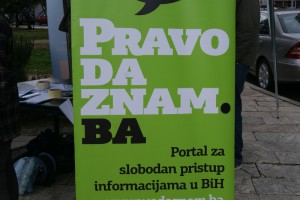 Today (December 15th 2011) In Sarajevo www.pravodaznam.ba – the first automated portal to assist requests for free access to information was promoted. The portal is realized by the NGO "Why not," in collaboration with Transparency International, the Information Program of Open Society Foundation, MySociety from Great Britain and Access Info from Spain.
Through this portal BiH citizens will be able to easily send requests for free access to information for all public authorities, institutions and companies in BiH asking them the information they want. Similarly, the " Pravo da znam "( right to know) portal contains a database of institutions in BiH with contact information that can be easily extended, and will contain a database of all the demands that will be made through the portal, as well as responses of those to whom requests were addressed.
Apart from the citizens, the portal can be used by representatives of civil society, journalists and media representatives, as well as all other interested. The portal has automated procedures for monitoring the status of the request, the response status of institutions, as well as tools for searching applications, users and institutions.
Boris Brkan from the NGO "Why not" also said that "institutions will have a great benefit from this portal, especially those in charge of responses to requests, as they will use the portal to avoid answering the same questions several times. Also, the portal has different mechanisms of protection against misuse of the same, as well as the possibility for the users to participate actively in the administration and work of the portal. "
Srdjan Blagovčanin from Transparency International said that given the numerous problems in the implementation of laws on Free Information Access, the portal will contribute to a smoother and faster communication between citizens and institutions and a simpler enforcement of laws.
"In any case, this portal will in time significantly affect the understanding of the concept of free access to information for the representatives of institutions as well as the citizens, and of course, it will raise the level of transparency of institutions and of the whole society." – Said Darko Brkan from the NGO "Why not".