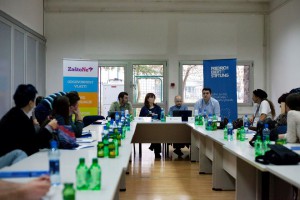 On Saturday, 23.11.2013. Friedrich Ebert Foundation in cooperation with UG Zašto ne held a regional conference entitled "The responsibility of government, civil society and new technologies – POINT 2.1" in the premises of CIPS (Campus of the University of Sarajevo).
The event was held in addition to the annual "POINT" conference has been organizing since 2012 by UG Zašto Ne with the aim of exchanging civil society experiences in the context of the use of new technologies for democratization of public life and for promotion of accountability and transparency in government as well as for civic activism.
Panel's speakers and participants represented civil society organizations from the region, and recruited from the first two editions of POINT.
The conference contained three panel discussions:
– Public campaigns for citizen participation
– Public campaigns for elections and GOVernment watch
– Open government in the region
We decided to talk about public campaigns for citizen participation because we believe that the biggest problem of democracy in the 21st century is a gap that exists between decision makers and those who are directly affected by these decisions, so the most important task of civil society and activists is to try to change this – to motivate citizens to take active participation, to show them the power they have and also to explain to decision makers that this is the only and also the best and most useful way for them, and also to make a functional and sustainable mechanism for this interaction are the tasks that are difficult to achieve, but ultimately, the citizens who are part of public, involved and loud are the only way for a better, more efficient and healthier society.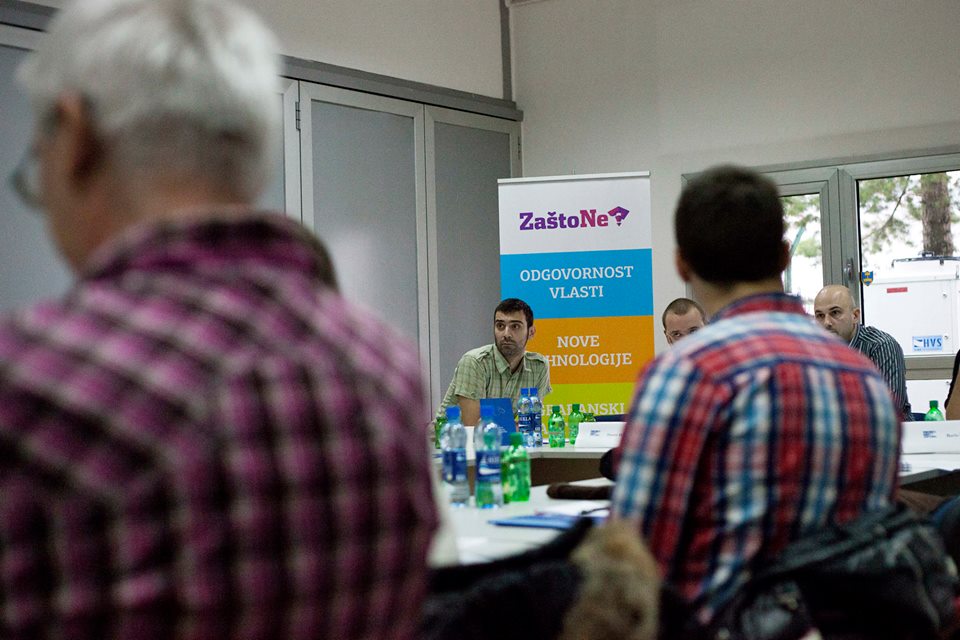 One of the panelists at the first discussion was Damir Dajanović from OP Revolt who presented the project E-Democracy in local communities in BiH, as well as E-Government portal that is under construction. General voter turnout in the past (local) election in Bosnia and Herzegovina was around 45%. That percentage is even lower among younger population, and is between 35 and 40%. One of the main, if not the main reason for such low turnout in the election is a belief that the politicians simply do not care about public opinion and input in matters of government.
A lot of people are discouraged to participate in the political life due to complicated procedures of submitting ideas to the councils and mayors. Muncipalities in Bosnia and Herzegovina don't have a good web presence, and that is why it is very hard for people, especially young 'online' people to take an active part in the government.
Revolt team believes that a website through which people could submit their ideas to the local government would be very benefitial to both the public, and the muncipality government. A website like this is very likely to improve both the standard of living, and the level of political participation among young people, and the voter turnout in general, thus giving the elected officials more legitimacy.
The second presentation was about public campaign/civil petition "Kec iz vladanja" carried out by Istinomer team from CRTA, an organisation from Serbia. Presentation was held by Siniša Dedeić.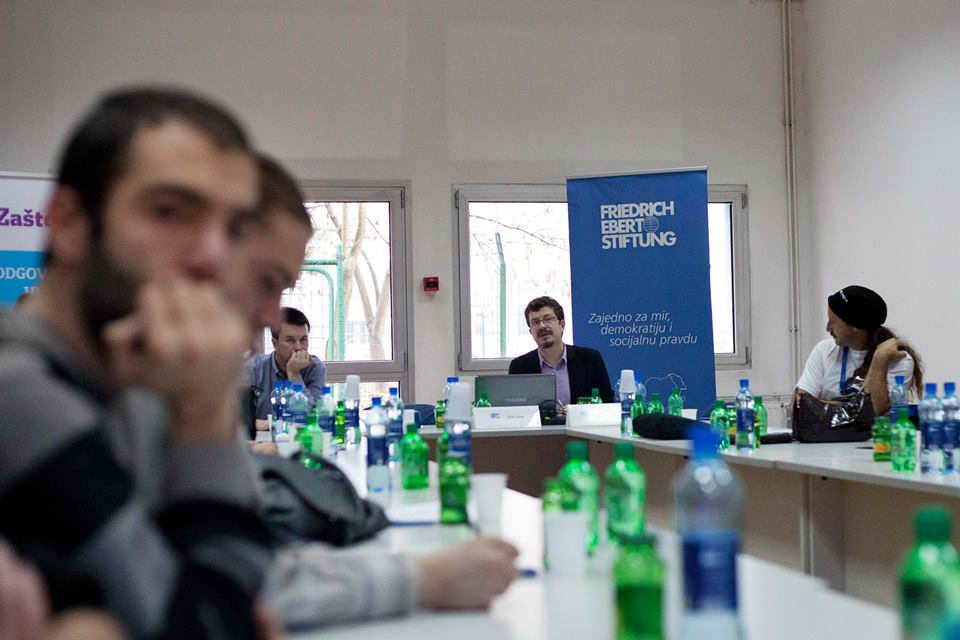 Damir Banović from the Centre for Policy Studies has presented the work of the Coalition Equality from Bosnia and Herzegovina, which carried out the campaign "Be a citizen – For BiH without discrimination" which included photo support from a large number of citizens and public figures who are opposed to the constitutional discrimination in BiH based on the ethnic principle.
The campaign and website "CensusMonitor" was presented by Boris Brkan from UG Zašto ne. This website and campign was launched to respond to identified lack of adequate information campaign by competent state and entity institutions that should have started implementing activities.  Civic monitoring of 2013 Census was conducted through CensusMonitor team's continuous communication with the citizens through street actions, online platforms (website popismonitor.ba, e-mail, social networks) and three telephone lines established solely for this purpose. So far, website popismonitor.ba had over 40.000 unique visitors, while the street actions provided an outlet for distribution of over 120.000 pieces of informative materials created by CensusMonitor's team.
The campaign also monitored the census process through e-mail and a Ushahidi map where people could report all kinds of irregularities in the census process, from procedural errors to receiving pressure from census enumerators. Popis Monitor received 859 reports of violations and suspicious activities, 250 of which were reported on the map and the rest through e-mail.
Another issue that we dealt with during POINT 2.1 conference were public campaigns for elections and GOVernment watch, speakers on this panel were Dalio Sijah from UG Zašto ne and Filip Stojanovski from the Macedonian organization Metamorphosis who conveyed Istinomjer experience from these two countries .
Istinomjer (BiH / MK) is an online platform for the monitoring and evaluation of responsibilities of public office holders and political parties in power. Istinomjer platform analyzes on a daily basis public statements of public office holders and assesses their responsibility in giving them. Statements of individuals are tested for consistency and veracity as well as the fulfillment of the promises given in statements.
Dario Jovanović from Centres for Civic Initiative presented Virtual Parliament, an online structure with the main purpose: to combine in one place and make basic information about the work of all legislative government institutions available to citizens of BiH and wider; to provide all MPs at the cantonal, entity and state level with a space for work and communication with citizens; to allow for fast, efficient, daily, and hopefully, fruitful two-way communication between citizens and their elected representatives. Virtual Parliament is a structure that, within its walls of steel, concrete and glass, contains 16 assembly auditoriums and more than 600 offices. It is the home for: both Houses of the Parliamentary Assembly BiH, both Houses of the Parliament of FBIH, National Assembly and Council of Peoples of RS, Assemblies of 10 cantons and offices for all members of the state, entity and cantonal parliaments. And all of them can be visited at any time or without prior notice by citizens who can find more information about the work of particular government institution or government representative.
In the context of increasing global demands to improve democracy in the world, Open GOVernment became the main factor for evaluating the potential of democracy in a society, so that the third panel discussion was devoted to the theme of Open GOVernment in the region. Panel speakers were Larisa Rankovic from CRTA organizations (Serbia), Zlatko Dimitroski from MOST organization (Macedonia) and Bojan Stančević from Transparency Int (BiH).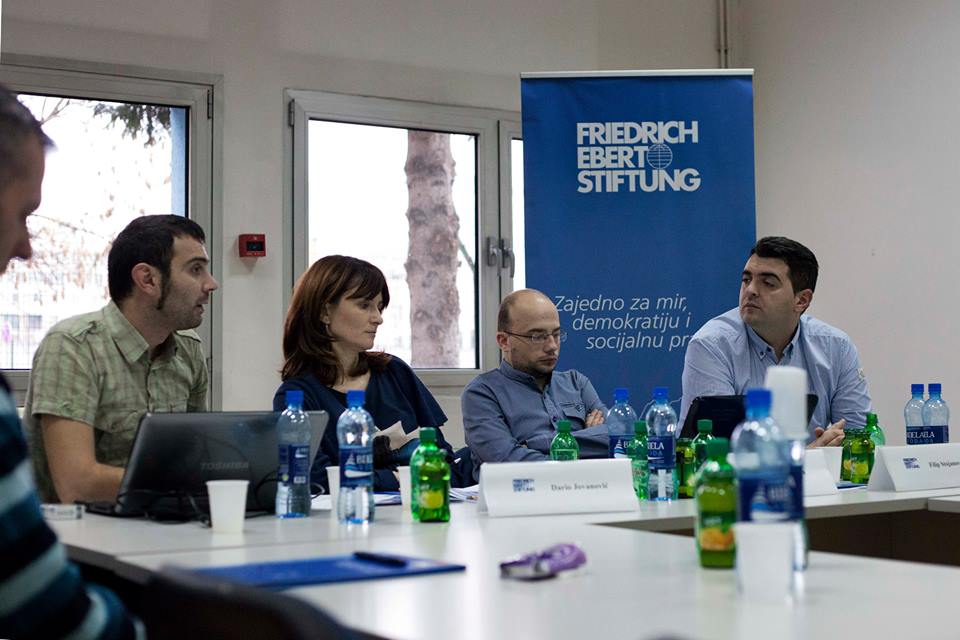 In addition to highlightening the importance of transparency and the adoption of new laws, the participants pointed out the great opportunities that disclosing data in the internet can bring to the whole population. The organizers and the participants agreed that there was a lot done in order to use new technologies to create more accountable governments in the region, but, in the same time, the exchange of experiences can help in scaling the good practices thorough the region.