Research on disinformation in online media: Who creates "fake news hubs" in BiH and the region?
Citizen Association "Zašto ne" presented a study on disinformation in BiH at EU Info Center in Sarajevo on May 13th. "Disinformation in the Online Sphere: The Case of BiH" is a research based on the analysis of media content fact-checked by "Raskrinkavanje" platform over the course of one year.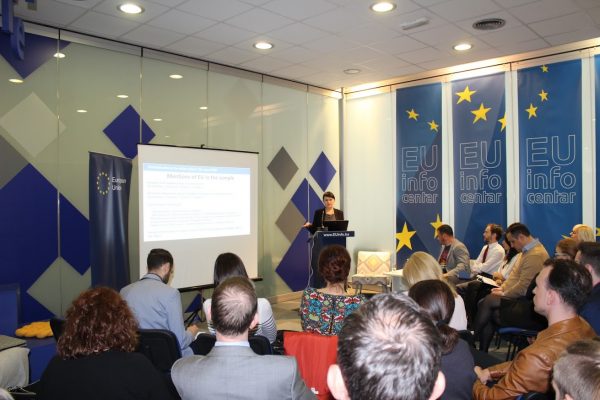 From November 2017 to November 2018, "Raskrinkavanje"  had analysed close to 2,500 media reports that were found to contain some form of disinformation (read more on fact-checking methodology of "Raskrinkavanje" here).
According to research results, around 62% of the disinformation published in this period referred to political issues and those appeared in a total of 1,486 rated articles published by 477 media outlets. These media and articles were the sample analyzed in this study.
The most common type of political disinformation is fake news, while clickbait was the second most common media manipulation in this sample. Anonymous websites are the type of media which is the most common producer and redistributor of disinformation. However, individual media outlets that published the most political disinformation are not anonymous – these are two public media outlets, one of which is a public RTV service (RTRS), while the other is a public news agency (Srna).
Research findings point to two major categories of "disinformation producers":
Owners of anonymous websites, who use it to attract readers and increase profits from online advertising

Media which continuously publishes disinformation that correspond to political agenda of various political actors from BiH, but also outside of it.
Half of the media (237) from this sample is located Bosnia and Herzegovina. There are 140 anonymous websites for which it wasn't possible to determine the location. On the other hand, as many as 100 media which published disinformation about BiH – or disinformation that had a significant "audience" in BiH – are located in the countries of the region, most of them in Serbia. When it comes to media outlets outside of BiH that published the most political disinformation in the past year, all the "top 10" media outlets are located in Serbia.
The content of disinformation was examined through the analysis of actors who appear in as "targets of disinformation" (when certain manipulation is used to portray them in a negative light) or persons, organizations, institutions, etc. who "benefit" from disinformation (when manipulations are used to portray them in a positive way). When we look at the individual actors from BiH, Milorad Dodik and Bakir Izetbegović have the most frequent mentions in the sample , with Dodik more often appearing in the role of actors who benefits from disinformation, while Izetbegović almost exclusively appears as a target of disinformation.
The database exported from "Raskrinkavanje" (available here) was also analyzed using the "Association rule mining" machine learning algorithm, which recognizes intricate links between individual data in complex data sets. This analysis was done to determine if there are groups of media which are inclined to continuously, regularly and frequently use each other as sources and redistributors of same disinformation. The analysis pointed to the existence of a large "disinformation hub" in which such regularities were established for a group of 29 media, 15 of them from Serbia and 14 from Bosnia and Herzegovina (12 of those from Republika Srpska). The media that appear as the main "connectors" in this network are public broadcaster RTRS in Bosnia and Herzegovina, and Sputnik, Informer and Blic in Serbia. Sputnik Serbia is also the only public media outlet with a significant presence in "disinformation hubs", which is owned by a state actor outside the region (the Russian Federation).
Read the full report "Disinformation in the Online Sphere: The Case of BiH".