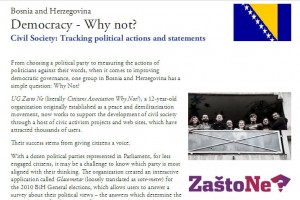 Projects launched by UG Zasto ne? are now being included in a report about good governance practices and public participation released today by the Organization for Security and Co-operation in Europe Parliamentary Assembly (OSCE PA), a 57-country assembly that works to strengthen international co-operation to uphold commitments on political, security, economic, environmental and human rights issues.
UG Zasto ne? created an interactive application called Glasometar for the 2010 general elections in Bosnia and Herzegovina, which allows users to answer a survey about their political views – the answers which determine the party that best fits them. Another  website by UG Zasto ne?, Istinomjer.ba checks the statements of politicians with their actions and helps people monitor how well government officials are fulfilling their promises to voters.
The report, sOcialSCapE: New ways that parliaments, governments, and civil society are increasing civic participation, features case studies from 40 countries.
"'Why not?' is exactly the question governments and civil society organizations should be asking themselves when it comes to incorporating citizen engagements efforts in all that they do," said Neil Simon, OSCE PA communications director and the editor of the report. "The OSCE PA applauds the many web sites in the UG Zasto ne family that further this goal of more transparent and accountable government."